Come Home to Mountain Air
Residents Offer Plenty of Good Reasons to Love Their Unique Community
If you ask residents of Mountain Air what puts a smile on their faces as they drive through the gate and see the "Welcome Home" sign, they won't give you just one or two good reasons. In fact, they'll probably give you at least ten good reasons this private community not far from Asheville is a special place offering a gracious and unique lifestyle with something for everyone, kids and adults.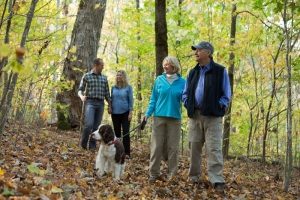 Reason #1: Natural Beauty
Situated on 550 mountaintop acres, you're surrounded by natural grandeur and serenity. At elevations up to nearly 5,000 feet, the views are simply spectacular as you gaze out over vistas that stretch for miles in every direction. Plus, the elevation provides summer temperatures that average, for example, just 72 degrees in July and offer welcome relief from lowland heat.
Reason #2: The People
Mountain Air has proven over its more than 25-year history that it's a welcoming and unpretentious place where families and friends from around the country gather to enjoy a multitude of activities in a peaceful mountain retreat. According to residents, there's an enveloping sense of camaraderie and family orientation that's very different from many private communities. And it's very pet friendly as well.
Reason #3: Attention to Detail
Virtually every element of the community was thoughtfully designed and is meticulously maintained. Visitors often point out the quality of the roads that sweep gently upward, and the attention to detail obvious in the amenities and lush landscaping. The 24/7 gated security further adds to the peace of mind valued by residents, while the community's technologically advanced Internet service ensures high-speed access and flexible work opportunities.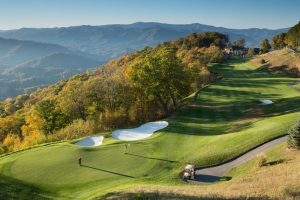 Reason #4: Plenty to Do
While you're welcome to just kick back and relax, there's always plenty to keep you busy and entertained at Mountain Air where an energetic private club is the heart of the community. There's a mountaintop golf course (open year-round) and training/practice center, along with tennis and pickleball. Plus a heated pool, fitness center and spa, movie theater, a market and lodge with guest suites. And a dedicated professional staff coordinates activities, events and special entertainment throughout the year for adults and children.
No need to go far for food and drink since the clubhouse serves as a central gathering spot and offers chef-driven, farm-to-table dining. Orville & Wilbur's, an open-air bar and grill, is a favored spot for casual dining and watching spectacular sunsets.
Reason #5: Outdoor Recreation
A distinctive feature of Mountain Air is the Outdoor Discovery Center staffed by a full-time naturalist who coordinates a wealth of year-round, nature-based activities on and off the mountain. Residents also explore nature on over six miles of hiking trails and within the sanctuary of six parks.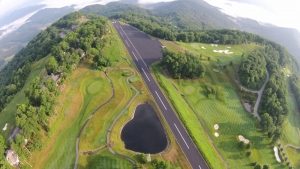 Reason #6: A Fly-In Community
Pilots and their families appreciate the ease of access provided by the 2,875-foot private runway that's the highest east of the Mississippi at 4,600 feet. Depending on the type of aircraft, most locations in the eastern United States are no more than three hours away.
Reason #7: Membership Options
While not mandatory, membership in Mountain Air Country Club opens up a myriad of unparalleled activities, services and entertainment. A range of options offer something for everyone, including new national and off-mountain memberships.
Reason #8: A Great Starting Point
Certainly its peaceful seclusion is a wonderful attribute. But Mountain Air is also close to the action when you're ready for art, music, cultural activities, dining, outdoor activities and more. The community is an easy 30-minute drive from the energy of Asheville, and just minutes from quaint Burnsville where residents enjoy pleasant small-town access to shopping, dining, supplies and services. It's also reassuring that quality healthcare is readily accessible in the area.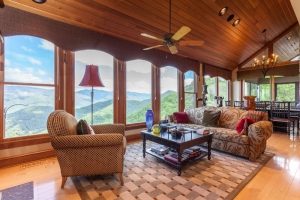 Reason #9: Gracious Living Options
A benefit of a well-established community is the selection of living options. Homes in varying sizes and styles are beautifully situated around the mountain, while condominiums offer easy living with virtually every aspect of maintenance handled by active property owners associations. And there also are home sites for those desiring to build a custom mountain getaway.
An on-site real estate team, specializing in Mountain Air properties, is always available to provide information and tours.
Reason #10: Peace and Serenity
Mountain Air proves time and again that it's a quiet and peaceful spot for relaxation and decompression. And, while there's always plenty to do, the community provides its residents with a tranquil refuge and gracious lifestyle amid amazing natural beauty.
If you're ready to learn more about Mountain Air, visit www.mountainairnc.com or call 828-682-8200.